At present, the number of children with special educational needs (SEN) in Hong Kong is on the rise, with these children at pre-school, primary and secondary levels having different unique needs. In recent years, the Welfare Council has been actively providing a wide range of services, including the WE LOVE - Jockey Club Centre for Family Enhancement and the H.K.S.K.H. Walk with Love Project, that provide on-site pre-school rehabilitation services, centre-based professional therapy, individual and group training and assessment, etc., so that children with SEN and their parents can continue to receive appropriate support.
Current Service Gaps
According to the study, early identification and rehabilitation of children with SEN during the "golden treatment period" of pre-school can help them grow up more smoothly. As families at the grassroots level do not have the resources to send their children with suspected SEN to private or fee-paying institutions for assessment and training, they can only wait for professional assessment funded by the Government and then receive rehabilitation services from the Government after diagnosis. Coupled with the increasing demand for special education services in Hong Kong, the waiting time for assessment is extended to more than 12 months, resulting in many primary school children missing the "golden treatment period".

In addition, the Social Welfare Department only provides early intervention training for children with SEN aged under 6. Therefore, every year, children aged 6 or above who are still studying in kindergartens are suspended from receiving or waiting for pre-school rehabilitation services provided by the Social Welfare Department. However, as the epidemic persists and the regular learning of children is affected, many parents have taken the initiative to apply to kindergartens for re-enrollment, increasing the number of children with SEN who are not entitled to any pre-school rehabilitation services. They have regressed in all areas, and the situation is worrying.

Therefore, we encourage donations to support the Council's SEN services, so those needy children can shorten their waiting time, receive early assessment and appropriate intervention services.
Service Features
Early intervention: Early identification of students with SEN, assessment and tailor-made treatment plan to capture the "golden treatment period"
All-round support: to provide consultation and training for teachers to help students integrate into the regular classroom environment and provide all-round support
Multi-disciplinary team: A multi-disciplinary team comprising occupational therapists, physiotherapists, speech therapists, clinical psychologists, social workers, senior special child care workers and outreach special child care workers, etc. will work together to develop an integrated individual training programme for the children
Family-oriented: to provide emotional support groups for parents with the whole family as the intervention point so that they can be more empowered to take care of their children and enhance the effectiveness of the services
Parents and children applying deep pressure on each other with a therapy ball to calm their emotions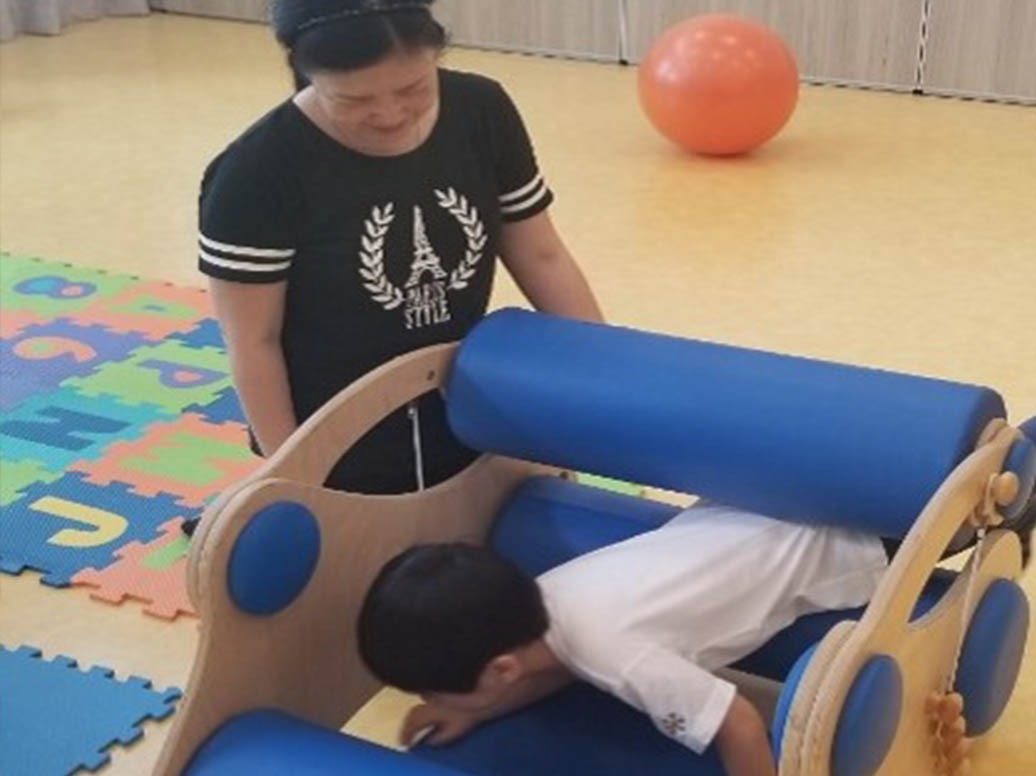 The Special Educational Needs Services provide training services for children in need