Shopping Cart ()
Recently Added
item(s)
Total HK$

$0.00
The item you just added is unavailable. Please select another product or variant.
Recently Added
Total HK$$0.00
The item you just added is unavailable. Please select another product or variant.
2022/04
Share with friends
5
Secondly Won Donations from Good Elders
$5,000
Fundraising Target : No Target Fund
Donate Now

" Keep it up! Fighting Against the Epidemic" Donation Programme
The Welfare Council will remain committed to our multifaceted efforts to fight against the epidemic. At present, we are devoted to assisting elders from grassroots households who have recovered from previous COVID-19 infection, especially those from low-income and CSSA households, in treating their long-haul COVID symptoms.
Many of the recovered COVID-19 patients, particularly elders with existing long-term illnesses, experience symptoms such as insomnia, heart palpitations, dizziness, weight loss, lack of appetite, loss of taste and smell, coughing, sore throat, deterioration of swallowing function, extreme tiredness, shortness of breath, chest tightness, memory and concentration decline, lower limb weakness, depression, and anxiety. Some elderly home residents, who were previously hospitalized or in quarantine facilities, are also plagued by pressure sore and deterioration of overall body functions, with some even having to rely on nasogastric tube feeding.
As part of an effort to help them, we sincerely invite all parties to make a donation or donate dietary supplements.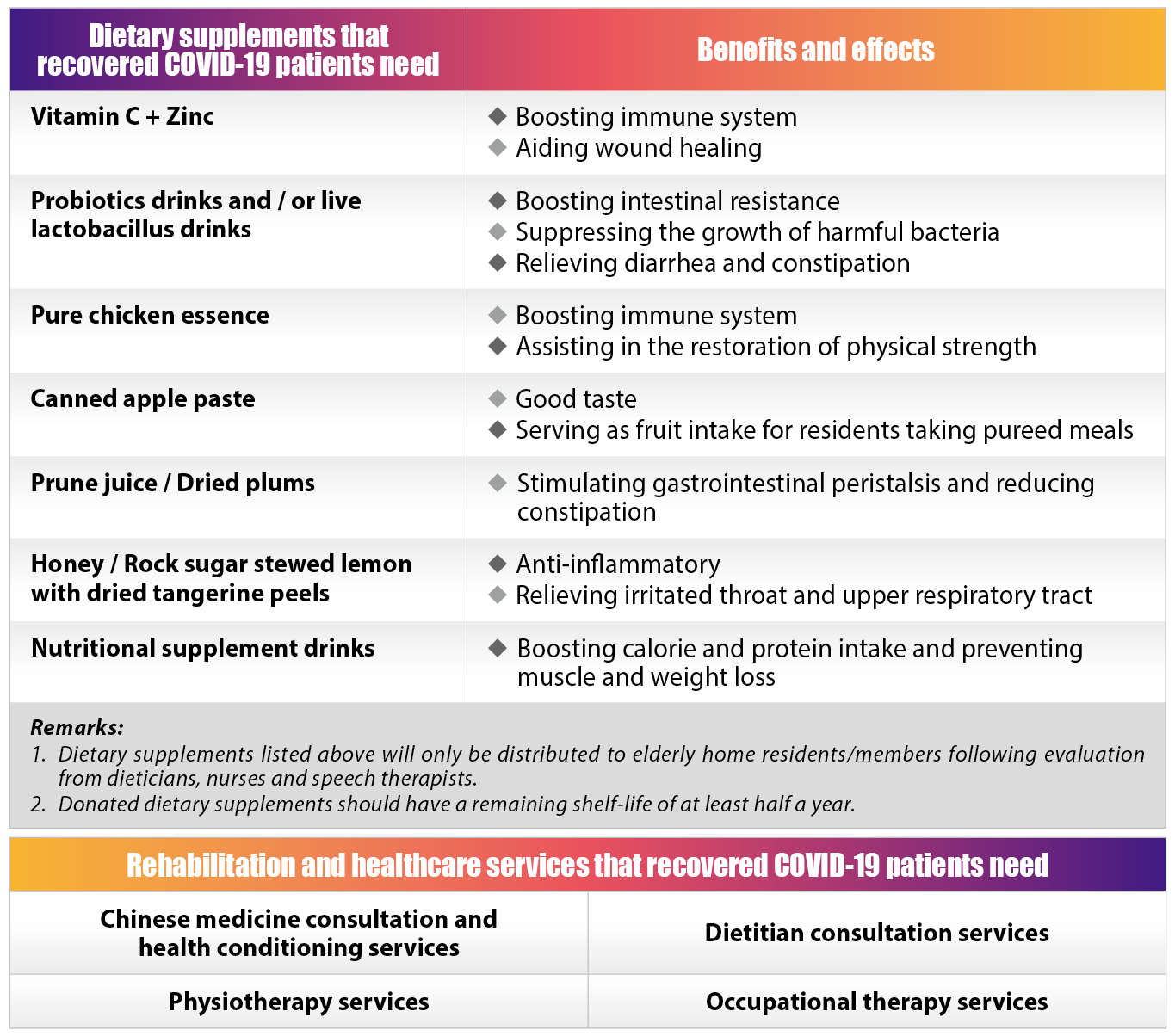 Your support can facilitate the speedy recovery of elders from grassroots households and take away their pain caused by illnesses. We sincerely hope that you can share the love of Christ by sending your blessings to those in need.
Enquiry:
Tel: 2533 1296
Email: donation@skhwc.org.hk